The Smart TV I never thought I needed. - Samsung Q90R QLED 4K UHD TV
Samsung sent over their QLED 90R for review. I was a bit hesitant at first to try it out and give my impressions on the unit because it's a TV. What would you review in a TV? I mean, I have a decent 40" Samsung Series 5 LED TV which I bought years ago. It never occurred to be to buy a new TV because the old one is still working. It has some limitations like it's not a smart TV. But I was able to find a quick fix by getting a media box (mi Box). I can directly watch YouTube videos, Netflix (and not cast it), by using a separate remote from the media player. It's not a seamless experience but hey it works.
So the Samsung QLED TV arrived at the house, I was in the office so mom received it who panicked because she didn't know that a big TV would be delivered. I remember her saying "Jusko! Napakalaki ng TV ano ba to?! Di ata kasya sa stand! Oh my, mas malaki pa sa dining table natin!". (Oh my, this TV is so big! I don't think this will fit the TV stand and it's bigger than our dining table!)
We got the Series 9, 65" Q90R QLED 4k UHD TV and it's pretty huge! I was overwhelmed with the size at first because it stands out in our small space and it lighted up the whole living room. So, to those who are not sure what the Samsung QLED offers, it brings consistent bright and vivid images. QLED TV's Quantum Dot technology enables you to see stunning picture quality. So I tried watching some 4k movies on Netflix and I loved the experience more than I thought I would.
So I tried powering up my PS4 and hooking up my Nintendo Switch into this TV and you can immediately tell the difference. It's so much better in a whole lot of ways. Gaming is much more immersive! It has the deepest ever black levels. Combining LED and anti-glare technology which precisely adjusts the brightness and black levels so you can see optimal contrast & details in virtually any light. The Samsung Q90R QLED uses FreeSync (VRR) technology, helping reduce input lag so you get the speed you need to get those epic wins!
Quantum Processor
QLED uses its unique upscaling algorithm to help deliver clear images, while also adjusting the screen brightness and sound to match your room as well as whatever you're watching. It's a powerful processor that provides an amazing experience.
What's nice with the Series 9, 65" Q90R QLED 4k UHD TV is that you don't need to sit directly in front of the TV. A uniform light-spread layer helps you get the most optimal TV viewing experience wherever you are in the room.
Another cool feature is the QLED AI Upscaling which uses the power of machine learning to analyze and upscale your favorite content to 4K Resolution. Samsung's Artificial Intelligence processor dynamically adapts brightness, sound, and volume to the room dimensions, giving you an incredible big-screen TV entertainment experience.
Now, the living room might be a bit messy, but another thing that's cool is that this one has One Clear Cable. Reducing cable clutter, Samsung QLED has this 5-meter slim cable that connects to the TV to the One Connect Box managing devices including power. Another cool thing is the One Connect Box, it is a media receiver with a built-in TV tuner. It has a hub for connecting audio-video components. USB & other ports are also available for more connectivity.
On the left, you can see how thin that Samsung Q90R QLED 4k UHD TV is and how it can be mounted on the wall and can seamlessly blend to any environment. They also have a lot of options for remotes, but the Q90R QLED 4k UHD TV's remote control in steel brush finish may be the one Smart Remote you'll (probably) ever need. A universal remote that actually works even capable of delivering what you're looking for at your voice command. Instead of multiple remotes to keep track of for your multiple devices, the One Remote Control offers an easy way to access many of them via your QLED TV. No more pushing buttons in vain because you have the wrong remote in hand, and no more scrambling for the correct remote so you don't miss your show.
Easily control all of your compatible devices with our simple One Remote Control and get quick access to Netflix, Amazon Prime Video, YouTube, Xbox or a Soundbar from the Smart Hub.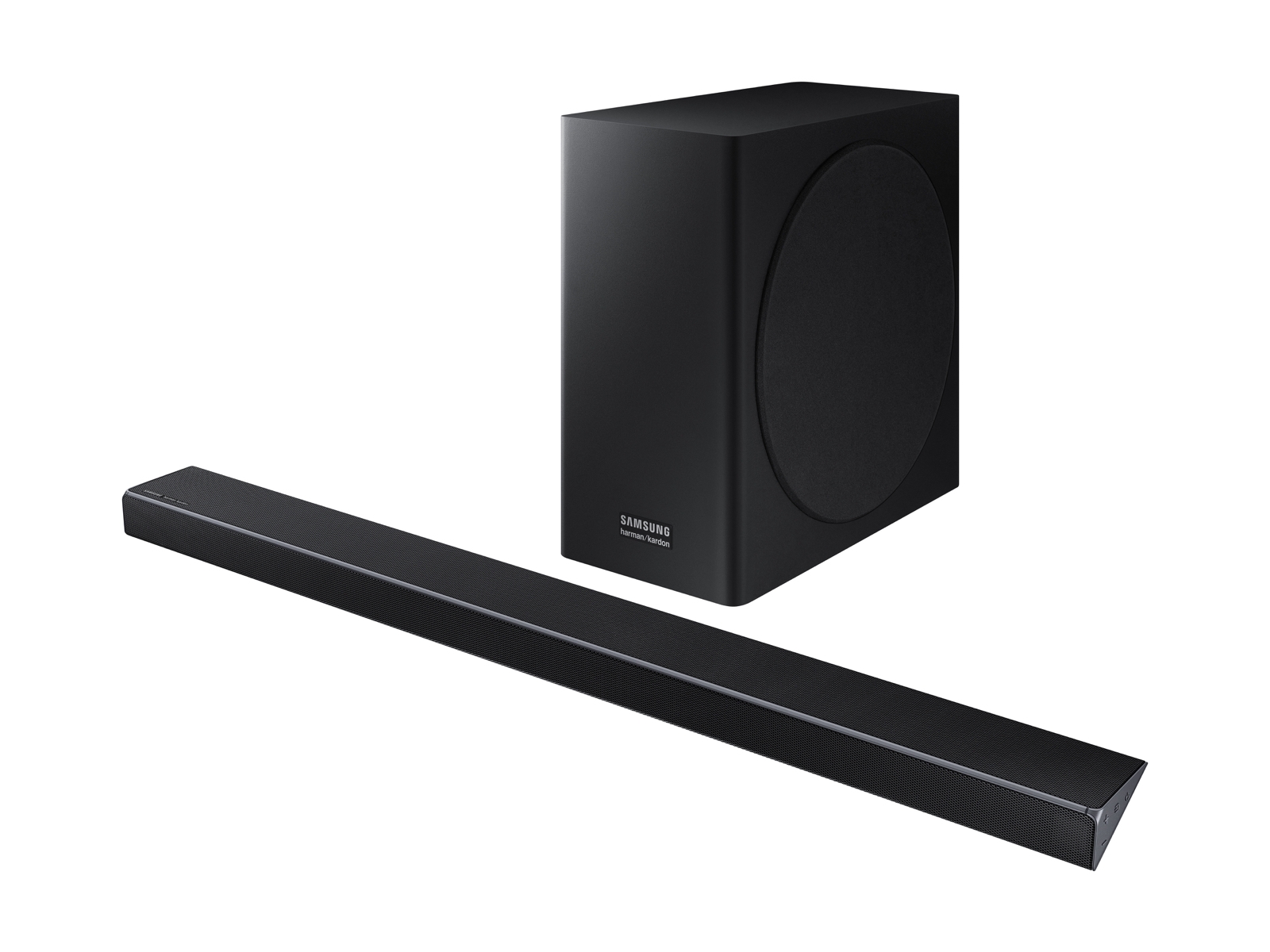 The Q90R QLED 4k UHD TV also came with the HW-Q70R Samsung Harman Kardon Soundbar with Dolby Atmos. Which made a whole lot of difference. With Dolby ATMOS and DTS:X powered by Samsung Acoustic Beam, sounds move around you from all directions, even above, just like in real life. Samsung Acoustic Beam technology delivers a directional sound that pans with the action HW-Q70R Samsung Harman Kardon Soundbar with Dolby Atmos. Overall really an amazing experience.
Here are the 4 features that might convince you in getting the Samsung Q90R QLED 4k UHD TV
1. Direct Full Array 16X - Precision makes perfect with Samsung†s most advanced backlighting technology.
2. Quantum Processor 4K - Intelligence improves performance,optimizing to viewing condition and contentin real time.
3. Ultra Viewing Angle - Get brilliant colour from every view, even when watching from the side.
4. Quantum HDR 16X -
Every detail shines in incredible HDR with brilliant QLED.
Impressions
The experience really changed how I get to enjoy watching movies with the family and enjoying the games that I play. Even my daughter who is turning 4 years old soon enjoyed how big the TV is. Enjoying the kid's shows like Paw Patrol, Peppa Pig & Barbie up on a bigger screen creates more moments for us to enjoy it together in the living room. Bonding over amazing TV series & movies sure did level up for me & my family.
After a few weeks of review, we were back on our old 40" TV and I am kind of missing the 65". It definitely changed my viewing experience. Even if we had a small space and the space was quite messy at that time, the size of the Q90R QLED 4k UHD TV made a statement and created a unique experience for the family to enjoy whatever is playing on the TV. May it be YouTube videos, Netflix & some movies on the hard drive, it just makes a whole lot of difference. Having the smart remote, the Soundbar with Dolby Atmos, the smart features & One Connect Box just created that one-of-a-kind viewing experience.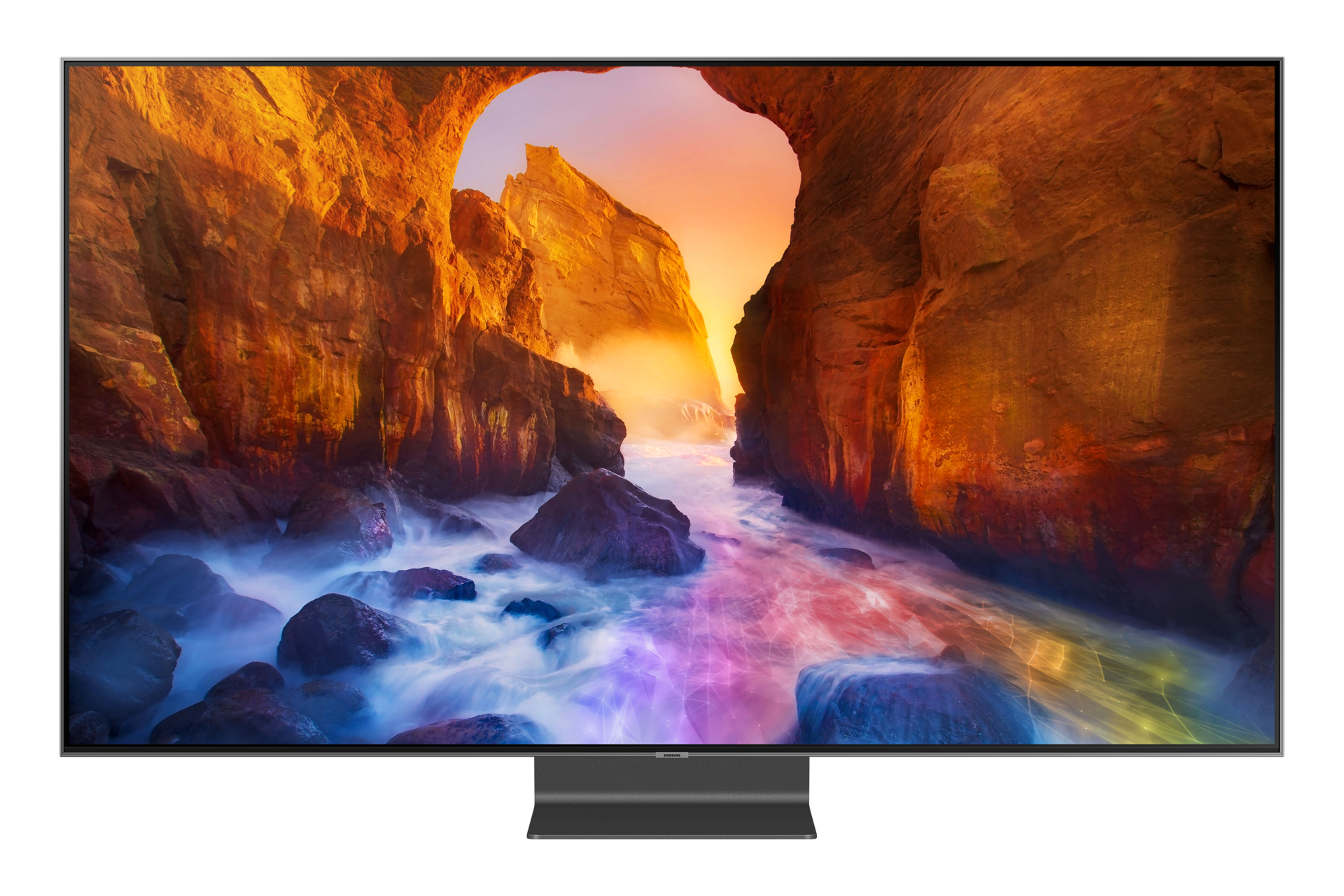 So, should you get it? I definitely recommend you take a look at this. I'm actually considering getting one this holiday season. There's just so much that I wasn't able to cover in this post like other features and the ease & convenience / seamless integration of its supporting attachments just makes the whole experience even more amazing. Big moments need a big screen. Even the action gets real on a big screen. When you see more, you can feel more.